This post has been sponsored by Dollar Tree. All opinions will always be 100% mine.
You already know that we love Dollar Tree! It's literally the boys'

favorite

place to go in town and works awesome as a

reward

for them. The most productive cleaning days around here seem to have that Dollar Tree light at the end of the tunnel! :)
Ok, ok, it's true… it's a reward for

me

too. Dollar Tree gets my

creative

wheels turning somehow. The Dollar Tree

Value Seekers Club

can help with that… each month they send an email with a whole bunch of

ideas

using items from Dollar Tree.
All of the sudden, when we walk into the store, I

no longer

see candy, glow sticks, tape and glassware. No, no, no- instead I'm seeing DIY home décor, tips and tricks that turn me into SuperMom, and boredom busters galore. For a moment at least, I feel a little

cooler

than I really am!
Even if I don't
actually
all the sudden have a
cape
on whenever we walk in the door of Dollar Tree, we all love a resource that makes us
think
in new ways, or gives us ideas we can make
our own,
right?
The DollarTree Value Seekers Club is

free

to join, offers new ideas that each have their own project sheet and instructions

each month

, and also includes contests, insider information and more- sweet! The sheets can even be saved or printed to use as a shopping list.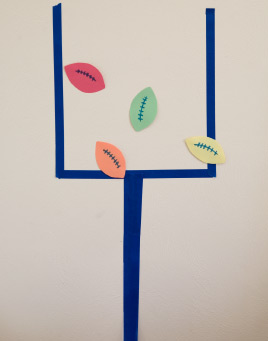 This simple 'Pin the Football in the Uprights'

game

is one of this month's Value Seeker ideas and I knew it was perfect for my little guys! I'm all about

boredom busters

(kinda have to be surrounded by these energetic boys!) and love it when

they

can take the wheel after a bit of instruction- this game was perfect for that. You can find more complete instructions and supplies needed HERE.
To make it
our own
, because, you already know, we aren't necessarily big sports buffs around here, I taped these simple
tree and wave designs
to our wall instead, then cut out
lizard, bird and fish
shapes.
The boys had to get the fish in the water and the birds and lizards on the tree branches. Once they got
ten in a row
in the right places (within a few inches), they got the cute prize jars below. Mom
trickery
for lengthening the game as much as possible? Yes, yes indeed. ;)
Several little
sparkly
Dollar Tree goodies inside a basic pint jar make for some pretty snazzy prizes, eh? The boys were happy as happy at the
novelty
of the whole shebang! They kept playing even without the incentive of a prize actually! I love snagging little toys and such when the boys aren't looking while we're at Dollar Tree- gives me the ability to pull together a
treasure hunt
or some other incentive on the fly later.
And today I get to make it so

you

might even be able to stock up for your own treasure hunts and wall games… with a

$100 Dollar Tree Gift Card Giveaway!

Just enter in the Rafflecopter below by signing up for the Dollar Tree Value Seekers Club and letting me know the email address you used- it's kinda like a prize

within

a prize, I'd say. :)
After entering, make sure to check out how some awesome

fellow bloggers

made DollarTree Value Seekers Club projects their own too with the links

below

.